There is something mutually promotive about the bond between daddies and their little girls. Fathers, with their awesome responsibility as the head of the family, are very protective of their princesses, and daughters look up to this giant of a man and bring out the best in him.
This past weekend our oldest girl, a freshman in high school, attended the father-daughter dance with her hero. A pink, lace dress was bought ages ago, a corsage and boutonniere were ordered and their RSVP sent in (late… as usual, but at least I found it!) My husband looked dapper for the portraits–and I quietly thanked God that when he fished out his tuxedo from the back of the closet, he remembered to check that none of our boys spilled A1 Sauce on it the last time it was borrowed.  My daughter and my husband had been "cutting the rug" with their swing dancing at our recent family weddings in anticipation (She didn't want to look dorky in front of her friends–you know how teenage girls are!) They rocked the Prom Center I'm told, spent a lot of time bonding and created lasting memories.
Another Family's Father-Daughter Dance
But not all fathers have this opportunity with their daughters. Take Rick Santorum, former U.S. Senator from Pennsylvania–his daughter, Bella, has Trisomy 18. Lately I have been reading about Mr. Santorum, his wife and their seven children. The Santorums cherish each week they have with Bella, and consider this time with her a gift. Against all odds, little Bella recently celebrated her 186th week of life (The one-year survival rate for Trisomy 18 is one percent.) And even though she can't walk, I have a feeling that this Catholic presidential hopeful carries his princess in his arms and dances her around the kitchen.
I believe that one of the reasons the Santorum family is so passionate about respecting human life is due in part to an earlier experience with their son, Gabriel, who had a fatal condition which was discovered in utero. According to LifeNews.com: "The doctor told the couple, 'Your son has a fatal defect and is going to die.'  But Gabriel was born alive. As Santorum recalls, 'For two hours he lived a life that knew only love.' "
Embracing and Promoting Life
Taking care of a child with disabilities is an uphill battle, and so is building the culture of life.  It's obvious that Mr. Santorum is used to rolling up his sleeves and getting these jobs done. Below, I've listed some examples of his pro-life efforts:
He assisted with the Schiavo legislation, playing a key role in ushering the bill through the Senate to a vote on March 20, 2005.
He has described contraception as "a license to do things in a sexual realm that is counter to how things are supposed to be."
He delivers pro-life speeches (some say they're the best they've heard)
Mr. and Mrs. Santorum were invested as Knight and Dame of the Magistral Grace of the Knights of Malta (assisting people with disabilities and illness)
He debates against partial-birth abortion
He speaks about the need for strong families and upholds the institution of marriage as a union between a man and a woman
A beautiful video
When Bella was born with Trisomy 18,  the doctors told the Santorums to "Let her go."  This angered them, and they fought for her instead. Eventually they came to the realization that Bella makes their family better. Daddy's little princess is the center of his universe. "This child can do nothing but love me," the former senator stated.
Another beautiful aspect about his little princess is that she will never have the 'normal' daughterly concern about her dad looking dorky. And most importantly, Senator Sentorum, like every cherished daughter, Bella can give you strength and a sense of purpose to fight the uphill battle. And she can make your heart dance.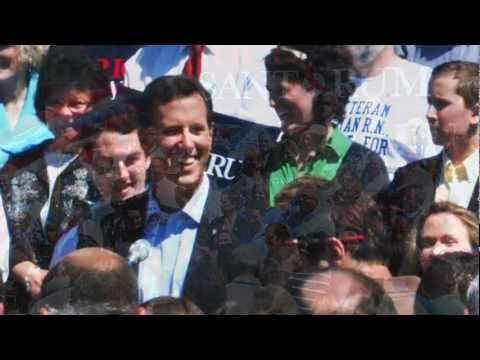 (Thanks to The Catholic Spirit staff member, Craig Berry, for passing information about this topic my way! And thanks to my mom, Cecelia MacDonald, for her help with editing!)