A very brave man!
Cardinal Timothy Dolan, archbishop of New York, is my hero. He more or less went into the lion's den and delivered a pro-life and pro-family prayer. Aren't we blessed to have him leading the United States Conference of Catholic Bishops (USCCB)? I have a feeling the vulnerable, and all of us, may be safer with him at the bow guiding us through the rough, unpredictable waters of these times. Let us pray that the ears, hearts and souls of the convention-goers were open to his evangelization.
My favorite parts of his prayer were:
"Grant us the courage to defend it, life, without which no other rights are secure. We ask Your benediction on those waiting to be born, that they may be welcomed and protected."
And:
"Strengthen our sick and our elders waiting to see Your holy face at life's end, that they may be accompanied by true compassion and cherished with the dignity due those who are infirm and fragile,"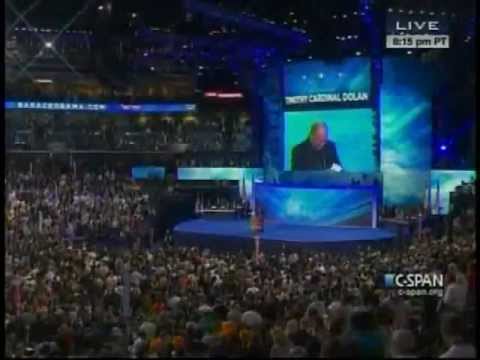 For USCCB articles on Cardinal Dolan click here.