It's common for a little girl to dream of finding her prince–a man who is handsome, strong, rich–and hosts fancy balls for the fun of it. A man who will carry her away to his castle on a white steed because he recognizes that she is a precious jewel and his burning desire is to crown her with a tiara and live happily ever after on matching thrones.
When all grown up, we girls realize that all of those characteristics and material things aren't as important as we once thought. We know that things such as: faith, morals, honesty, integrity, education, personality, hard-work-ethic, love of family, and faithfulness are upper-most in desirability, that strength is most impressive when it's used to protect the defenseless, and that 'goodness' is preferable to 'good genes.' 
He's no frog!
I found my handsome prince 22 years ago, and we have been carving out our own version of 'happily ever after'–nine kids and all! But there is a real prince out there–one who seems to have the whole packaged-deal. May I introduce H.S.H. Hereditary Prince Alois of Liechtenstein. This man is stopping me in my tracks! He has a face that could grace any men's fashion magazine, he lives in a castle and I'm pretty sure he enjoys hosting royal balls. He's 43 and the eldest son of the reigning prince; destined to be the successor to the throne. But most importantly, this gentleman is a noble voice for the voiceless–standing up for the innate value of human life in his small country even though he is under pressure not to do so from the European Union (EU) and the United Nations (UN). And he is not being timid about his approach either. He's producing a mighty roar (I was going to say 'yodel,' but that wasn't quite the image I wanted to create) which is echoing off the surrounding Alps.
Abortion is illegal in only four European countries: Ireland, Malta, Poland and Liechtenstein. On September 17 there was a referendum to decide whether Liechtenstein–a small, mostly Catholic country of 27,000–would continue to outlaw abortion. Liechtenstein, although tiny, is tough! It doesn't merely outlaw abortion, but under the existing law, women who cross borders to have this procedure risk one year imprisonment. Prince Alois (my hero) declared his opposition to the bill which would legalize abortion in the first trimester. This topic was discussed in a speech he gave on August 15, 2011, (According to an article by Lifenews.com):
Prince Alois of Liechtenstein, the country's de facto ruler, said he would do what he could in his power to block the bill from becoming law if the nation's legislature took it up following the vote. He said, 'Until now we have been proud to support people with disabilities in our country. The proposal would discriminate against such people and allow them to be eliminated in the womb.'
This one-minute video explains the situation: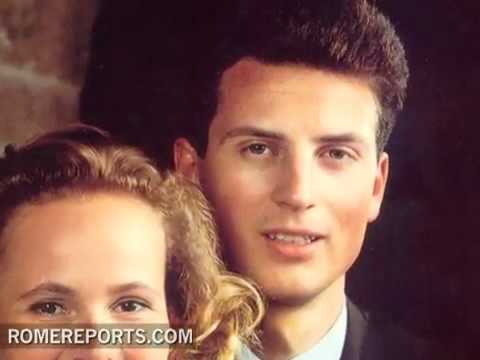 Was His Roar Heard?
Yes, thankfully the country voted to reject the legalization of abortion.  The prince's strong stance had an effect. Some pro-choice people didn't bother going to the polls because they knew that even if they were to cast anti-life votes, Prince Alois had announced he would veto any 'yes' vote.
Bravo, Sir Prince! I can tell you were an officer in the military and that you're used to securing your post.
Etcetera, etcetera, etcetera…
Hereditary Prince Alois and the lovely Duchess Sophia of Bavaria (Yes, ladies…he's taken) have four children. These young royals have quite the saints' names, too:
Joseph Wenzel Maximilian Maria (born 1995)
Marie Caroline Elizabeth Immaculata (born 1996)
Georg Antonius Canstantin Maria (born 1999)
Nicolaus Sebastian Alexander Maria (born 2000)
The fact that they are 'walking the walk'–embracing life as a couple–is another thing that impresses me–since many Europeans these days are having very few children, or no kids at all.  I think it's safe to assume that the prince and duchess' children are being reared with pro-life values. I hope they will be fruitful and multiply all across Europe, being noble champions for life–just like their daddy!
And may they all live happily ever after!