I sure hope my children would have been among the students who had the guts to get up and leave as soon as a gay-activist speaker started Bible bashing. Heck, I wouldn't even want them there in the fist place.
Can you believe it? My Grandma Mabel is probably rolling in her grave. At a national journalism conference  recently, an anti-bullying "specialist" named Dan Savage told his teenage audience, "We can learn to ignore the bullshit that is in the bible." And he was just warming up (see video below). A student reported that one of the first things he told them was, "I hope you're all using birth control."
There's a girl who is the first to leave the attack. She is seen painfully rubbing her temples as she is walking away. This student has a disgusted look on her face.
Well, I want that young lady for a daughter-in-law some day! Her parents obviously raised her to be a brave  leader, and about 99 other youngsters ended up following her right out the door and into the hall. What did Savage do about this? He mocked them. He bullied them.  Hey, wait a minute…Wasn't he supposed to be speaking against bullying?
Who is this savage man anyway?
Dan Savage has been writing Savage Love since 1991 for The Stranger, an alternative weekly paper in Seattle, that syndicates his articles to more than 50 other newspapers. You might remember him as the guy who was so obsessed with physically harming Gary Bauer's 2000 campaign. He writes about this "Germ Warfare" in The Stranger:
"Naked, feverish, and higher than a kite on codeine aspirin, I call the Bauer campaign and volunteer. My plan? Get close enough to Bauer to give him the flu, which, if I am successful, will lay him flat just before the New Hampshire primary. I'll go to Bauer's campaign office and cough on everything. Phones and pens. Staplers and staffers. I even hatch a plan to infect the candidate himself; I'll keep a pen in my mouth until Bauer drops by his offices to rally the troops. And when he does, I'll approach him and ask for his autograph, handing him the pen from my flu-virus-incubating mouth."
Do you remember this?
"When Sen. Rick Santorum suggested that the arguments being made in the Lawrence v. Texas case on gay sex might lead to the idea that all consensual sexual activity, from bestiality to adultery to polygamy, etc., should be legal, Savage got so mad that he asked his readers to come up with a disgusting definition for which the word "Santorum" would be used." (quote taken from a Get Religion article)
I've read somewhere that Savage and his "husband" have a child. I sure hope he watches his language when he's with Junior, unlike he does when he's speaking to other people's children.
Dan Savage has followers…But why?
Savage has managed to syndicate his column internationally and build a readership of millions.
He has garnered widespread acclaim for his "It Gets Better" campaign–the talk that the 100 kids walked out of. this is an effort to prevent suicide among gay youth by having LGBT adults convey the message that the lives of these teens will eventually improve if they embrace their sexuality. The effort has been supported by dozens of influential politicians (Barack Obama, Hillary Clinton), celebrities (Justin Bieber, Tom Hanks) and corporations (Google, Apple). The message is a worthy one—no young person should be bullied, much less be driven to suicidal angst over it—but the inescapable fact is that for those who follow Savage's advice, heterosexual or homosexual, it won't "get better." (according to First Things by Joe Carter)
It amazes me that people even care to hear what this promoter of hedonism has to say, since he is a self-proclaimed liar. Savage once admitted to lying about his residency in order to fraudulently vote in the Iowa primary. He was charged with a felony but pled guilty to a misdemeanor, making Savage a convicted liar and fraud.
Watch the video
You can see in the video that not all of the students agreed with Dan Savage during his recent "It Gets Better" discussion. If you are a Christian parent, and see your kid on this You Tube clip exiting the abuse…Well, give that kid of yours a big, giant kiss! That's what I'd do! Maybe even buy him or her a Chipotle burrito!
It's good to know that even some gay rights supporters are mad about how Savage attacked Christians. Todd Starnes of Fox News wrote that the executive director of GOProud,  Jimmy LaSalvia, called Savage's behavior "outrageous" and demanded an apology.
"Dan Savage should apologize for his comments and should apologize to the high school students in attendance whom he called 'pansy-asses,'" continued LaSalvia. "It is ironic that someone whose claim to fame is fighting bullying would resort to bullying tactics in attacking high school students who were offended by his outrageous remarks."
A response
How do we respond to Dan Savage on homosexuality and the Bible? A blogger for National Catholic Register, Jimmy Akin, posted the video below: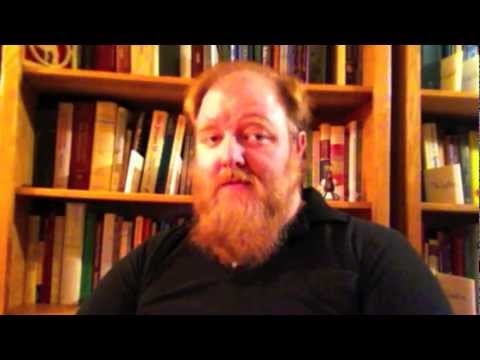 (Thanks to Paula Linnen and Vince and Lysa Flynn for sending articles on this subject my way!)