As Thanksgiving nears, my husband and I reflect on how grateful we are for our nine children–including a set of twins that arrived when we were in our 40s. Because of these belated blessings we gobble up anything that has to do with twins (like the video at the end of this blog. But first…)
 On a personal note…
One thing is for sure: Our twins are not always as happy as they are in the above photo, but when they get chummy–it warms our hearts! When they were in their first "bed" (womb) they were not always as calm as the babies are in the video below. In fact, when they were born we could tell them apart by their "war wounds." Each boy was decorated with bruises all over his face and body.
While in the maternity ward, I used to swaddle our babies together. I knew that they needed human touch more than a "singleton" did. This calmed them down even after they were circumcised and in pain. The surgeon for this procedure stood in amazement after each circumcision because she had never witnessed this "cuddling-calming" phenomenon before with multiples.
At age four, our twins still give each other comfort with their touch. Yesterday I heard a mewing sound coming from our boys. When I looked at them they were sitting at the table with their heads touching and arms draped over the other. Each had a thumb in his mouth and blankie in hand–humming with contentment.
Last week our second oldest and I took the twins to Target. The boys were in separate grocery carts and did not like being separated. When we rolled them out of the store, they held their hands to each other until they grasped. Then they started making that mewing sound again like they always do when they are cuddling. Our older son was flabbergasted, and other people smiled as they saw what the boys were doing. What a double blessing they have been to all of us!
The video
I wanted to share with you a moving video that  family and friends sent our way. It shows what multiples might be like in the womb. (But these babies are actually in a bath after being born.) As you watch this video that went viral, be thankful for the gift of life! Happy Thanksgiving!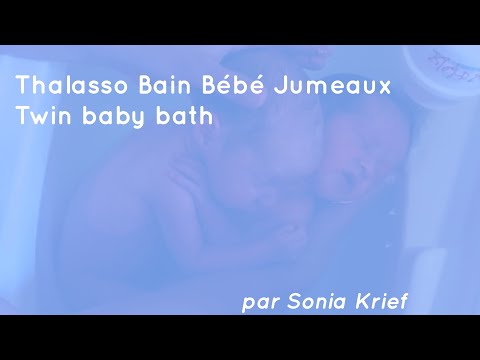 To learn more about this video and baby bathing technique, watch this Today video: